Well, as you see my 31 days series fell off somewhere.  Not intentional.  I received a lovely virus on my computer and it has totally messed my blogging up.  I was out of town for Relevant and couldn't even publish drafts.  I also lost several things, so with all that said I am going to tell you in this post the rest of the ideas .  I hope the series has helped you make great fall memories with your family and it will be listed here for you next year as well.  So here it is……………………
Day 27:    An Autumn tea, I thought this was such a great idea and my friend (fellow Contributor) from The Better Mom  wrote about this on Homemakers Challenge, go check out the Tea Article from Jennifer  This is her picture!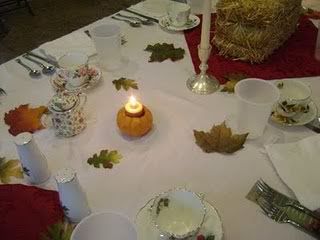 Day 28:  Go to a fun fall festival, they are usually at your local churches or community centers and many are FREE!
Day 29:  Carve pumpkins together
Day 30:  Have a themed fall dinner or lunch for your friends.  You can have all kinds of fall themed activities including crafts and treats.
Day 31: Just take the beauty of the fall season in, go out and smell the air, cuddle together and enjoy God's Beautiful Creation!  Fall shows us how CREATIVE HE is!
My topic is 31 fun, fall, frugal things to do as a family. To read about why I picked my 31 days of fall fun go here, also I have a cloud tag on my right sidebar so you can click the 31 day series button (1st one) everyday to get a new idea for your family or better yet subscribe, that button is on the right too.  That way you won't miss a thing.