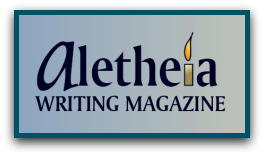 Aletheia Writing Magazine is is a quarterly publication focusing on the literary and artistic works of Christian teens, ages 13 to 19. If you are looking for a great magazine to subscribe to that is wholesome and creative for your teen this is it. The illustrations in this magazine are truly breath taking, my son really loved it. He is 12, he told me to let my readers know the articles in the magazine were inspiring. There are short stories, poetry, reviews, art, and more in this magazine. I LOVE the photography in it, they print full color on the page. It is really amazing to see the talent in Aletheia and if you have a student that has a gift in writing, photography, or art this is the magazine for them. Actually I'm not artistic that way at all and I loved reading the stories and seeing the beautiful artwork. Magazines may a great stocking stuffer and this is one you won't be sorry to see your teens read!
Subscription cost is $26 for 4 quarterly issues (U. S. rates), shipping included. You can read the Spring 2011 issue FREE by clicking on the link on the main page.
As a member of the Homeschool Crew, I was given this product to review. I was not paid for this post. All opinions expressed in this post are mine.