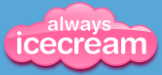 Always IceCream is an educational website for girls. There are many games on this site that are really fun for the little girl in your life. There is typing , geography games, and ways to earn money (which is called scoops) to buy things for her pets and so much more. Online games are not typically my favorite but this one was a big hit around here and my daughter loved it. She does not get bored with it and has learned a lot. You get emails weekly telling you what your daughter has been playing and learning. There is a chat button for friends that you approve. Honestly, we don't do the chat thing. It is just not something I want my kids doing however I do believe the way their chat system is it is completely safe.
This website is totally worth checking out. It is very good! You can try it for free so make sure you do, you won't regret it!
We are doing US history this year so this game was so fun for my daughter and I can't believe how many she knows now because of this game. It really makes learning fun!
Always IceCream motivates girls to practice skills such as:
Math
Typing
English
Geography
Science
The Arts
Geared to girls ages 7-12
$4.99 per month or $29.99 per year
Life-time membership $99.99
As a member of the Homeschool Crew, I was given this product to review. I was not paid for this post. All opinions expressed in this post are mine.