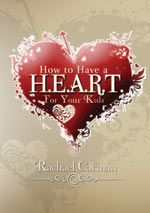 H-Have a Heart for the Things of God
E-Enrich Your Marriage
A-Accept Your kids
R-Release Them to God
T-Teach Them the Truth
(The above principles are what the book is based on for Having a heart for your children)
I was on an airplane on my way home from my brothers wedding when I started reading this book. I'm pretty nervous on planes and I got so lost in this book that I forgot where I was, it really helped me to relax. This is a keeper for my bookcase for sure!
This book is for the homeschooling mom! I love that it talks about winning your children's hearts and Rachel Carmen (a new owner of Apologia) touches YOUR heart as you read about her honest struggles with parenting and the call to homeschool her children at first. She talks about her desire to send her kids to school and live the "normal" life that most people live and how Godly women that she met along the way made huge impacts on her life in her earlier parenting days. I love to think about the examples that have made me who I am along my journey and it was great reading about her influences.
I especially love the chapter on accepting your kids for who they are and who God created them to be. I have a special needs child and we have had so many issues at different levels of his developement. This chapter convicted me to the core for TRULY accepting him for who he is.
I LOVE this quote.
"When we attempt to rewire our children, we are actually rejecting them, even if we do not verbalize it. They can sense it. They feel it."
I know from experience that they do indeed and it was great reading her advice on accepting our children.
I also love her talks about academics. I have always said," if my kids are academic geniuses but I don't win their hearts and teach the character of Christ to them" I have failed! Even if I help make them doctors, it will mean NOTHING! We have to get to know our children and work on their hearts! We JUST have to!
This is a GREAT book and I hated to see it end. It is small, compact, and hardback, it fits perfect in your purse and is a great book for on the go! This is a must have for the homeschooling mom!
This book cost $13.00
As a member of the Homeschool Crew, I was given this product to review. I was not paid for this post. All opinions expressed in this post are mine.