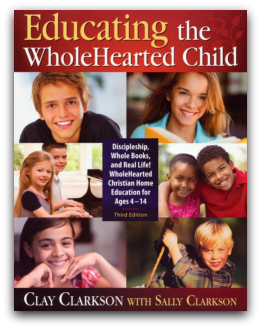 How I Love Sally Clarkson, she just reaches down and touches my heart to the core. I have been reading her books for years and I love every one of them! Educating the WholeHearted Child is no exception, this is one incredible book.
Sally and her husband Clay have a new version of this book. It is truly more then an education book that tells you the how and what, it is a way of life that encourages a love of learning in your home. From great books to shaping your child's heart for God. I LOVE this book, it is one of those books you need on your bookcase to refer to.
This is a Christian book that really talks a lot about spiritual matters and protecting the heart of kids. Sally and Clay have a lot to be proud of, they now have grown children that all LOVE and SERVE the Lord. Their advice is not for the faint of heart, it is a tough way to parent when you decide not to live like the world, it is truly setting yourself apart at times, not allowing all the influences of the world to your children and protecting their young hearts at all cost. I do love that they talk a lot about parenting that reaches the heart, not just discipline. They want to reach in and capture their kids hearts and minds for the Lord, they do this by connecting with their kids and encouraging their children's gifts.
It is EXACTLY what I want for my family so of course I loved the book! I would go as far to say it is the best homeschooling resource book (how to and more) I have ever read!
I'm so excited to be going to Relevant next week where I will meet Sally Clarkson and she will sign my copy, So So excited to meeting this woman of God. What a mentor she is!
The book is 22.00 and is available from Apologia.
As a member of the Homeschool Crew, I was given this product to review. I was not paid for this post. All opinions expressed in this post are mine.