So have you taken the plunge yet and bought an e-reader? I really didn't know if I would like to read my books on a machine and not actually have the book in my hand. I know I have heard a lot of people who wonder about that but I will have to say, I LOVE it. Of course that doesn't mean I never read a regular book the old fashioned way, I LOVE books so now I just have another way to read them.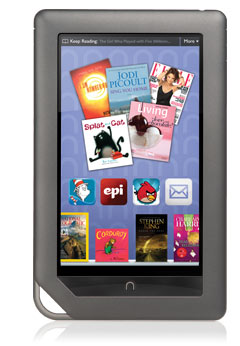 I LOVE my nook color that I received this past Christmas!  It is an e-reader from Barnes & Nobles the whole family can enjoy.  The color on this device is BEAUTIFUL and when your looking at a illustrated book it is amazing.  You can also order magazine subscriptions and they are very colorful as well.  I also have a place where I can download all those great ebooks that are sold on the web, ones about homemaking, blogging and much more.  Just attach my nook cord to the computer and they go right on there.
My kids love the nook and it has been a great thing to take with us when we have a wait or car trips, not only is there illustrated kids books but kids books that are interactive (characters actually move in some) .  Now there are apps too, they just keep adding more and more stuff to this thing, I know another electronic device to get addicted to, but we are loving it.  I actually use it in my homeschooling too, the kids get excited when they see the nook in their workbox with a note saying to read a certain book, or have the nook itself read the story to the child.  They love it.
If you do have a nook, they have a facebook fan page and you can get a free book every Friday.  They won't all be books your interested  in but some will so it is worth checking out!
Have you taken the plunge yet?  Do you have an e-reader, if so which one?