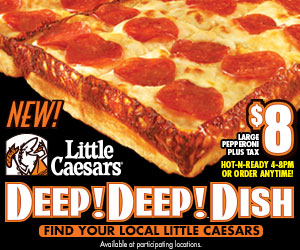 Little Caesars has the new DEEP!DEEP! Dish pizza! It's a traditional Detroit-style deep dish with more of the stuff you love: crispy corner crust, more cheese and more pepperoni! HOT-N-READY from 4 p.m. to 8 p.m. and only $8 (+ tax at part. locations). Value! Value!
We love pizza here in the Richter home!  With a family of 5 pizza makes a great, hot meal and is great for family nights!  We were able to try the new DEEP DEEP Dish from Little Caesars and it was SO GOOD!  I LOVE the thick crust on this pizza (I am a crust LOVER) so this was perfect for me.  I was able to feed my three kids and I are one 8.00 pizza, I just added some chips and we had a great dinner!
You can find a location near you: http://www.littlecaesars.com/Locations.aspx .
Enter!Enter!For the chance to win FREE DEEP!DEEP! Dish pizza for a year*.    Register on Little Caesars Facebook  for your chance to win FREE DEEP!DEEP! Dish pizza for a YEAR, plus other great pizza prizes!  Ends June 25th
Giveaway:  I have a 10.00 G/C for Little Caesars so you can try a Deep Deep Dish for yourself.  To enter join the widget below:
Thanks to Little Caesars for giving me a gift card to get my own pizza for review.  All opinions are 100 percent mine!