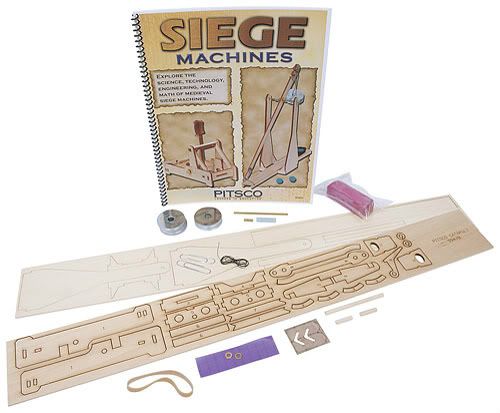 I love it when you can find a great educational experience that is hands on.  There is no doubt it is how most of us learn best, to not just read about something great in a book but to build it with our own hands, how can you NOT learn like that?  Pitsco has created some great hands on learning kits, they have been in business for 40 years and really want to help children succeed in Math and Science.
We received Medieval Machines Pack, which include a Trebuchet Kit, a Catapult Kit, a Siege Machines book, and counterweights for the Trebuchet.
The boys in my house (including husband) LOVED working on this project together.  The pieces are sturdy and easy to work with.  There is always the normal challenges of putting things together like making sure you have the details (even the small ones) just right but they had well planned directions that come in a form of a book to help them.  They had a great time building this together and it was fun watching and listening to them as they worked.
The three educational lessons of the the
Science: Tension versus torsion, elasticity, gravity and levers, and force and motion
Math: Metric conversion, calculating averages, and prediction
Experiments: Mass versus distance, testing rubber bands, targeting, and more
This retails for 21.95
As a member of the Homeschool Crew, I was given this product to review. I was not paid for this post. All opinions expressed in this post are mine.