STEP RIGHT UP! Calling all Cats and Dogs! The Flea Circus is about to begin!
It's a wild time under the Big Top as dogs and cats race from one show to the next. Players use their best Flea Circus acts to attract the most cats and dogs. Play your cards right and you can steal the audience away from your neighbor! But watch out for the Animal Catcher… He'll snatch your cats and dogs away!
With all this excitement, how's a Flea Ring Circus supposed to keep up? When all the cats and dogs are gone, whoever ends up with the most animals at their show wins the game!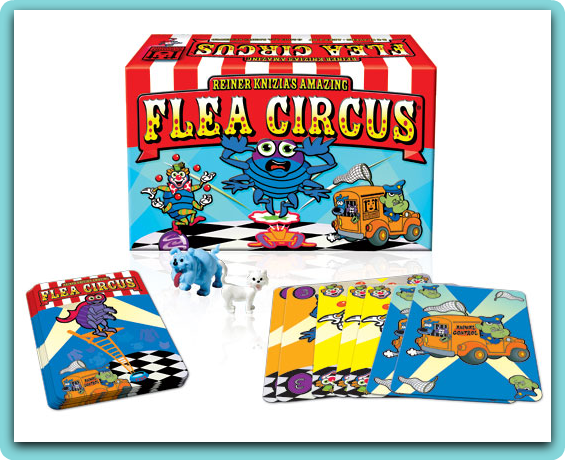 We recently received a game from R & R games to review called Flea Circus. My daughter and I have had a lot of fun playing this game together. My daughter is a lover of anything CATS, dogs too for that matter so she was thrilled to have them for the game pieces. The cards are vibrant colors and the cards are easy to hold even for the smaller hands. The one with more points with their cats or dogs at the end wins the game. Very fun family game!
The game is a for 2-6 players, ages 6 and up. It has won many parenting awards including the Parenting Media Award.
The game comes with 55 cards, 20 rubber cats, and 20 rubber dogs. R&R Games is graciously offering a 20% discount to anyone purchasing Pig Pile or Flea Circus through the TOS Homeschool Crew reviews. Just enter the coupon code, CREW20, to receive the discount now through December 31.
The game cost 15.95
As a member of the Homeschool Crew, I was given this product to review. I was not paid for this post. All opinions expressed in this post are mine.