We received a Scruble Cube to review. This is a great game to challenge you in spelling and vocabulary. You take turns finding at least a three letter word, if you make a word out of someone else's word you get the points for both. It is like scrabble on a cube, you have to make words on the cube and count your points up. The cube turns easily and is great for the car, or on the go. The cube has special pieces around the cube that allow you to earn double and triple points and has a wild card.
We enjoyed the game (my oldest and I) It is not easy but I will say after playing it awhile you start to get the hang of it better and you start finding words faster. I love that it is compact and easy to twist.
A great game to take with you when your traveling and sitting in waiting rooms. I also love the fact that it is an educational game where you can encourage you kids in spelling and making words. It is one of those games that makes the brain work and think and that is always a plus in this electronic age where your kids don't always have to think.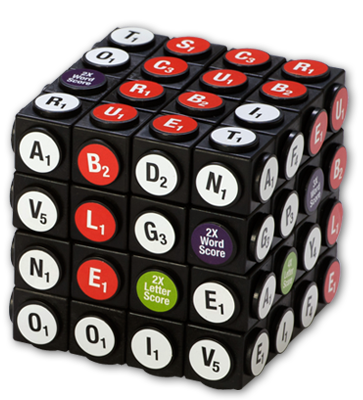 Scruble Cube is appropriate for the 8+ age range, and retails at $24.95, and comes with the cube, one pad of score sheets, and an hourglass along with a sheet of instructions and a getting started guide. The cube has 96 letters on rows that twist, and each letter has a point value.
As a member of the Homeschool Crew, I was given this product to review. I was not paid for this post. All opinions expressed in this post are mine.