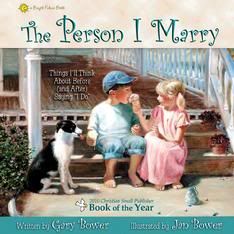 Recently I was given the e-book version of The Person I Marry by Gary and Jan Bower to review. This is an adorable book that you can read to your children about what they should look for in a mate. You don't want to wait until the teens years to begin discussing this subject with your kids, you want to guide them in their young years so it gets in their hearts young what to look out for and what not to. I just read an article the other day about how picking your mate is the most important decision you will make in your lifetime, of course as Christians we believe choosing to accept Christ as Savior as number 1 but I believe picking your spouse is number two for sure.
We want our children to look for kind, loving, men/women but most of all we want them to look for Christ in this person. I tell my kids often even now, you don't even want to look if they don't love Jesus. Prepare them now, this is still no guarantees but you have to do your best to guide them in the right direction.
This book talks about all of this, it is written in poetry form and it talks about how the wedding can be beautiful but it is not the flowers or the dresses that are really important, it is WHO you marry that is. There are beautiful illustrations and each page talks about what IS important in that special person. Kindness, friendship, and more. It reminds us they won't be perfect but neither are we and that marriage is meant to be forever, until death separates us. Great book to read to your younger children. My daughter didn't move while I was reading it, she was so curious about what was important (the little girl in her for sure) It reminded me, she is taking it all in, how important these lessons are in their lives!
The Bowers have written other books too, you have to check out their great website.
The hardback version retails for $11.99.
As a member of the Homeschool Crew, I was given this product to review. I was not paid for this post. All opinions expressed in this post are mine.