I LOVE character building products, products that can help us in teaching our children values and true character.  I was excited to review We Choose Virtues.  This curriculum is for ages 3-18.  I received I received Virtue Clue Cards, Kids of Virtue download coloring book, Family Character Assessment, Kids Memory Verses, Bible Heroes and Truths, and the Teacher's Handbook.
There are 13 colorful Virtue Clue Cards in a carrying pouch.  On each card is a virtue, a phrase , and a special character. The back contains a a reminder practice the virtue . The Clue Cards are sold for $7.95 there is a  sale going on right now for $5.99,
The coloring book is download only and is 3.00, The Teacher's Handbook is 48 colorful pages and is available in hardback for $19.95 or download version for $4.99. This is included free in many of the kits that are available from We Choose Virtues. This handbook contains steps and tools for teaching character education in the classroom, home schools, and daycare,  and The Youth Memory Verses and Heroes and Truths was also included in our products and it is available free. It contains a bible hero and a memory verse to go along with each virtue
This has been a great program that I have added to our workboxes in our homeschool.  My two youngest especially love it and I LOVE to see them excited about learning about character and virtue.  If you are looking for a good character building series this is EXCELLENT.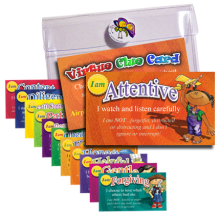 :
12 Character Traits covered are:
Attentive
Content
Diligent
Forgiving
Gentle
Helpful
Honest
Kind
Obedient
Patient
Perseverant
Self-Controlled.
They have some great specials going on right now.
Prices for these thicker posters:
Kids Virtue Poster now $11.99 (from   $14.99)
3 Rules   Poster now $9.99 (from $11.99)
100 Days of Virtue   Chart with Butterfly Stickers now $13.99 (from   $14.99. The stickers are still pretty pricey for me)
CLEARANCE SALE!2011 Kids Virtue   Poster $9.75 (from $14.99, 35% savings)
2011 100 Days of Virtue Chart and Butterfly   Stickers $11.99 (from $14.99, 20% savings)
2011 3 Rules   Poster $7.75 (from   11.99, 35% savings)
There is a CLEARANCE category on their website only while supplies last.
You can follow We Choose Virtues on Facebook.
As a member of the Homeschool Crew, I was given this product free to review.  All opinions expressed in this post are mine.