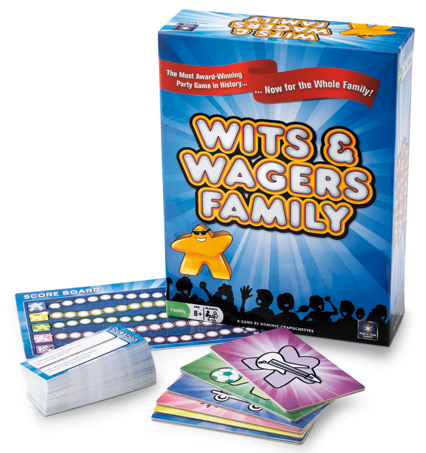 I love a good board game! Board games are one of the most affordable ways to connect with your kids. NorthStar games have some great games, ones that really get your family talking and laughing together. Wits & Wagers Family is one of these fun family games.
There are 300 questions, once a question is asked each family member guesses an anwer then you get to guess which answer is the closest. There are small Meeples (cute figures) you can put down on their guess. Points are awarded both for writing the winning guess and for choosing the winning guess from among the other guesses.
This is a really fun trivia game where the kids get a kick out of their guesses. The game is for 8 and up and will be more difficult for younger children, although they can guess and still get points which is nice because there is a way to include everyone!
This game is a spinoff of Wits & Wages, the most award-winning party game in history, that has been featured in Real Simple and Dave Ramsey
Available both online and from a variety of national retailers, the game comes with a deck of question cards, a score board, five answer boards, a set of dry erase markers, and five pairs of Meeples. The price is 19.99
As a member of the Homeschool Crew, I was given this product to review. I was not paid for this post. All opinions expressed in this post are mine.